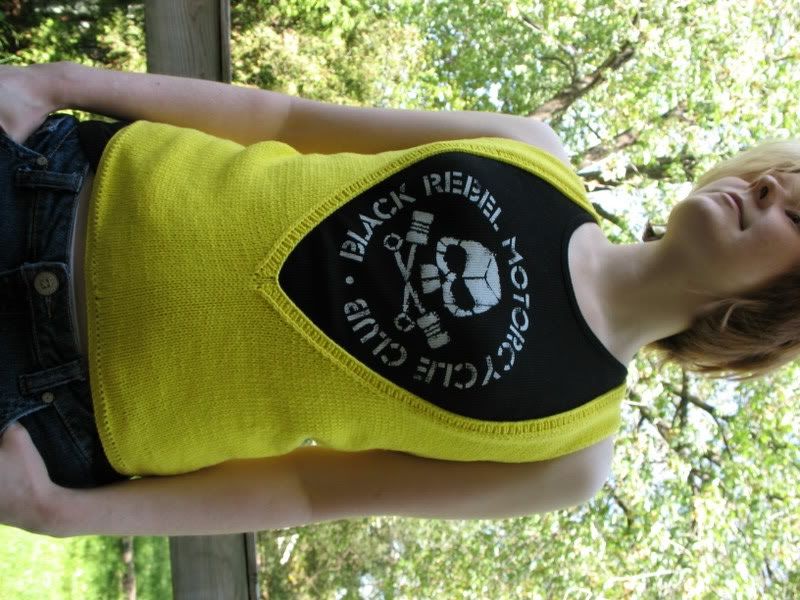 Materials:
DK / worsted weight yarn
4mm and 3.5 mm circular
3.5 mm crochet hook (optional, see note)
stitch markers
stitch holders/waste yarn
Gauge: 21 sts = 4 inches on 4mm needles
Bust: 30(32)
Notes:
- This vest is worked in the round until the neck opening. The round begins at the centre front. This makes sense, trust me.
- I did 3 rounds of single crochet around the bottom, because I just like crochet. That's my thing. If you prefer ribbing, just start with a tighter cast on (I use a cable cast on for ribbing) and work 3 rounds of ribbing then continue the pattern as written ignoring the crochet part.
- The armholes on mine could stand to be a little bit looser. They've stretched out, but you may wish to knit yours a bit more than 7 inches. That's your prerogative.
- This vest should be in a loud colour. Brown is not acceptable.
- This pattern is only one size, but is easily adaptable. Just add stitches where you need 'em.
- I used a recycled cotton yarn, but good substitutes would be Butterfly Super 10 Mercerized cotton or Nova yarn's Bio Bamboo. Sorry I don't really know how much, but I'd say 400 metres to be safe.
Using knitted cast on and 4mm circular, CO 156(168). Place marker and join to work in the round, being careful not to twist.
Work in stockinette st for 5 inches.
Next round: BO first st. Knit to end of round. Turn work.
Row 1: Purl. Turn work.
Row 2: K1, SSK, K to last 3 sts, K2tog, K1.
Repeat these rows 15(16) more times, total of 16(17) decreases. 123(131)sts.
Work even in stockinette st until work measures 15" from beginning.
Armholes!
K19(21), BO 9, K67(73), BO 9, K19(21).
Slip front sts to holders or waste yarn. Join new yarn for back.
Row 1: K1, SSK, K to last 3 sts, K2tog, K1.
Row 2: Purl.
Repeat 4(5) more times. 59(61) sts.
Work in stockinette until armhole measures 7".
Last row: K13(14), BO to last 13(14) sts, K13(14). Place shoulder sts on holders/waste yarn.
Work fronts as for back. Join shoulders with 3 needle bind off or kitchener stitch.
Starting at bottom side, work 3 rounds single crochet. Fasten off.
Starting at shoulder, pick up approx. 302 sts around neckline with 3.5 circular. Be sure to pick up one stitch right in the middle of the V, and put a marker before and after it. Work in K1, P1 rib. 2 sts before marker, SSK, K1, K2tog. Continue in rib. Work 3 rounds, then BO in pattern.
Weave in ends, block, be awesome.