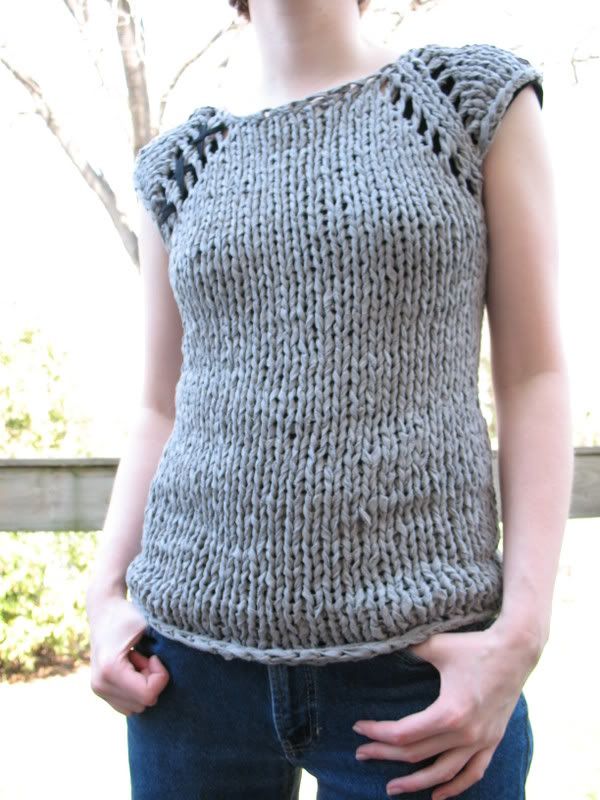 14 balls R2 Rag by Rowan/Westminster Fibres (25 yards/100% cotton)
(10 for short sleeve version)
15 mm circular needles
stitch markers
scrap yarn
thread in corresponding colour
Gauge: 8 sts = 4 inches (2 sts to the inch)
Size: Fits bust 32-36
Tip for working with this yarn: because this yarn has such short yardage, you may wish to sew the ends of each ball together with a sewing machine to create one giant ball before beginning (this can be done by hand if you don't have a sewing machine). Also, instead of weaving ends in, I simply folded the ends inside the garment and sewed them into place. Weaving your ends in traditionally could leave massive lumps in your fabric.
Yarn substitutions: 3 strands of worsted weight yarn will get the gauge, and create a rather loose, gauzy fabric. One strand of super bulky weight and one strand of worsted will also work, creating a more dense fabric. Play around with yarn weight/colour combinations until you find something awesome.
Instructions are for the long sleeved version, read notes for short sleeved version.
CO 36 sts
1st round: k3, pm, k15, pm, k3, pm, k15, pm
(For short sleeved version, use YO increases instead of kfb)
Increase rounds:
1: kfb, *K to 1 st before marker, kfb, slip marker, kfb. Repeat from * to end
2: knit
Repeat these rows 6 times, total of 7 increases (92 sts - 17 each for sleeves, 29 each for front/back)
Slip 17 sts to scrap yarn, k29, slip 17 to scrap yarn, k29. 58 sts.
(For short sleeved version, BO 17 sleeve sts on last increase round, then work in stockinette stitch for desired length or until yarn runs out)
Work in stockinette stitch until piece measures approximately 25 inches from neckline. BO.
Pick up 17 sleeve sts.
Knit across, pick up 3. Place marker.
Knit 25 rounds. BO.
Finish with sewing machine or stitch by hand.